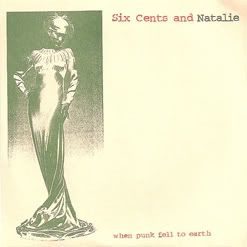 Six Cents and Natalie 7"


when punk fell to earth


1995 Rubber Goldfish Records

When I first picked this record up I figured it had to be a late 90's emo or post hardcore record. Something about the cover screamed Mineral's

February

7" or any other record cover with similar features from that time period for that matter. What I read when I flipped the cover over is what made me commit to a purchase.

"Recorded entirely in my bedroom on my 1987 JVC cassette deck. All songs by Six Cents except: "living on video" by Trans X. Guitar by Gary. Special thanks to Stanley"

I also noted the label's location, (Lawernceville, NJ), and the band's Seattle address. Seattle has a great history of low-fi early indie so could put my trust in that as well.

The record is fantastic. It includes five tracks which all seem to have been done on a Casio SK1 or very similar 80's synth. The songs are really catchy and listenable and the singer, Sean Tollefson (later of Tullycraft) has a similar voice to that of Joe Jack Talcum of The Dead Milkmen - maybe if Joe Jack was doing slower, more serious tunes, alone... with a keyboard.