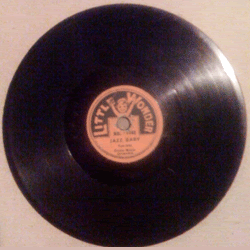 I was out doing some Xmas shopping this afternoon, and of course I found something (small) for myself.

Jazz Baby

on Little Wonder - a five and a half inch, one-sided shellac phonograph record with an orange and black label depicting a child conducting an orchestra.

The record was only a few bucks, and between the really attractive center label and the patent info on the back dating back to as early as 1901, I had to take her home.

I did a little research and found out a few really interesting things about this record. First and foremost, this record in particular is from 1921. It's one of the more rare releases on LW, but even the rarest of these small records don't fetch much of a return. There are two main reasons for this. 1) The grooves are crowded on the small record and therefore the sound quality and actual song length is compromised, and 2) Many of the artists featured on LW were also available on RCA or Columbia, or Edison - the main players in the record game at the time.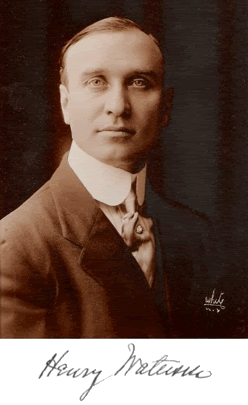 The story goes that Henry Waterson (then co-president of a larger music publishing company) had a pretty ingenious idea. At the time, many people were interested in owning tangible recorded music, but the prices were off the wall. A regular full length record was about a buck back then (which would be a price that hovered around twenty US dollars today). So Waterson decided he was going to offer a smaller version of what was on the market for prices horrendously cheaper than his competition. The results were epic - with sales counts in the millions. He decided to hit up all the local five and dime type shops such as S.H. Kress, S.S. Kresge, F.W. Woolworth and J.G. McCrory. He also made them available through larger sales catalogs such as Sears, Roebuck and CO. etc. Sears especially loved Waterson's idea because their whole marketing strategy was the same - to undercut the competition.




This was the first time that a record company stepped up to bat and offered something substantially cheaper. Victor had been doing compatibility battle with Columbia and Edison by making it difficult to play opposing company's media on each others' respective consoles (from patenting spindle hole sizes to producing stylus-specific phonographs), but no one had done an undercut of this proportion. It would change the way the the industry operated from there on out.

No. 1142

Jazz Baby

Fox-Trot Dance Music Orchestra
Little Wonder Record Company Woolworth Building New York, N.Y.