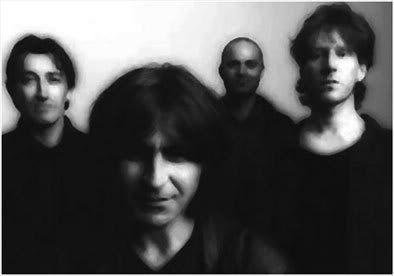 (This is in an interview that I conducted in the summer of 2006. It was originally intended for a zine that my friend Matt and I had planned to print).

IMFA: Introduce yourself. Talk about your musical projects both past and current.

MB: My name is Mark Burgess, I was the bass player and singer with The Chameleons- Chameleons UK in America - from 1981 - 1987 and again from 2000-2002. I also played with a UK band called The Sun And The Moon from 1987-1989 and have recorded a few solo albums and collaborations in between. Currently I'm taking a break from music while I put the finishing touches to an autobiography - View From A Hill - which should be available this coming Christmas time.

IMFA: Growing up, what or who were your musical influences and when did you first realize that you were a musician?

MB: I started with records very young when a staff nurse at my kindergarten began playing Beatles records for me, that was 1964. I got my first record player when I was 8 and was buying records by The Beatles, The Searchers, Ennio Morricone, Procol Harem, got into The Doors at around 10 years old, then the Glam thing happened in England. For me it was T.Rex, Sparks and David Bowie and toward the end of the 70's - Kate Bush. Then came Punk, The Sex Pistols, The Damned, The Buzzcocks, The Jam, The Fall, ATV and most significantly The Adverts, cause that was the band that made me decide I wanted to play Bass. I also really liked The Stranglers. Then I got into Jah Wobble via Public Image, The Teardrop Explodes and the Cherry Red stuff - Morgan Fisher, Dead Can Dance. Discovered Phillip Glass around 82, but by this time I was really kind of trying not to be too influenced by bands around us, cause I was in a band and we were really trying to focus on developing a sound and style of our own, so I suppose personally my biggest influences at this time were Dave Fielding and Reg Smithies. Later on I became a huge fan of Mike Scott and The Waterboys and a whole host of acoustic writers and singers that most people will never have heard of. These days it's stuff like Woven Hand and The Arcade Fire. There's a massive amount of stuff I've left out here I know, ranging from Johnny Cash to Jeff Buckley..

When did I realise I was a musician? I think it was when the magazine 'International Musician' contacted me years ago and asked for an interview and all the questions revolved around my bass playing and the kind of gear I preferred, I thought to myself, hello-I must be a professional 'cause these guys are pretty serious about it!

IMFA: Is there anyone who stood out (or stands out) as an exceptional person to play or make music with?

MB: Bryan Glancy, a close friend and an acoustic singer/songwriter from Manchester, I was working with him a lot around 1990-93. He died February this year.

IMFA: How did the nickname Birdy come about?

From school. Burgess - Burge- Birdy - Bird. That was a common way of acquiring a nick-name at my school in those days..

IMFA: Have you always played guitar or did you make a switch from the bass guitar as some point?

MB: I started as a bass player and I suppose I'd still say that's chiefly what I am. I picked up the acoustic guitar gradually as a means of backing myself so I could do shows when I didn't actually have a band to play with. I still strum acoustically from time to time and do the odd show, but I can't really play it if I'm honest.

IMFA: Over the years I have detected what appears to be a struggle with spirituality and religion within your work. Is this accurate, and how does your work reflect these beliefs?

MB: I wouldn't say it's been a struggle, but I suppose it's one of the major elements of much of the lyrical work I've done. I suppose I was kicking against a culture that either pushes spirituality into the realms of over simplified religious dogma, or fails to understand how important it is as a basic cultural need. I mean in the UK in particular, by and large, it seems to be deemed enough to meet economic needs or provide luxury and comfort for the masses, but fails to comprehend the total lack of spiritual fulfillment in the way our society is structured. You know. It's getting better with regards to the education of very young children there, I mean in my day it was called Religious Education-RE- and it was a total crock. These days it's called something like Awe and Awareness and comprises things like, stopping a math class when it starts to snow outside and getting the kids out of the classroom so they can appreciate it. It's difficult for me to define it exactly.. For me true spirituality has nothing at all to do with religious institutions and denominations and more to do with getting in touch with very basic natural elements and values.

IMFA: I have always felt that your music has been overlooked and is somewhat undiscovered in the United States. Is this something that you would agree with?

MB: Actually it's always amazed me that anyone over there got into it at all, I tend to count my blessings more than I curse my failings..
IMFA: Other interests besides music?

MB: Cinema is a big passion of mine, although I don't get to the cinema as often as I used to or I'd like. My favorite Director is David Lynch.

My chief passion actually is cycling, well cycle touring, I love loading the bike up and taking off for a week or so cycle-camping. I've just recently come back from a 600km ride from Hamburgisland of Mors in northwest Denmark. I plan to do a lot more of that next Spring and Summer. My dream is to be able to do a Trans Am eventually before my old legs give out.

IMFA: It is apparent that there is a fantastic level of creativity and imagination found within your lyrics. What do you draw these concepts from?

Thank you that's very kind of you. I dunno really, I mean I was always quite imaginative I think, I was an only child growing up and so I suppose my imagination filled a gap. School tried to kill it off and they almost succeeded, I never did quite recover fully from that. It was a bad school full of bad teachers. I suppose the lyrics simply reflect the way I see things as I drift through life, I can't think of any other way of putting it really.

IMFA: Future prospects?

MB: Well on the surface things aren't looking too great to be honest!

I mean my label manager here died last December and I can't summon up the motivation to start shopping my work around. I'm nearly always on the verge of bankruptcy and often wonder how long I can keep it up. But then my teachers always told me my prospects were poor, so you know, I didn't listen then so I'm not going to start listening now. On the positive side I have a good time, I'm very happy with my wife Daniela here in Hamburg and I don't starve. So you know. I mean if I never get to make another record I feel I've helped produce a body of work I can be proud of, the future that's just a blank page same as always. I'll just continue being myself and doing my own thing like I've always done.

IMFA: Anything you'd like to say to young musicians and music lovers of today?

MB: Onwards and upwards and try and keep your chins up. Try not to get addicted to anything nasty and always try and remember who your true friends are.

Ta!

Love,
Mark