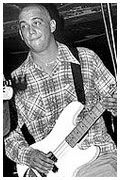 Mike Watt (Minutemen, fIREHOSE, J.Mascis and the Fog) -

When Mike Watt began playing bass, he was so unfamiliar with the instrument that he didn't even know that you had to tune the strings. Perhaps one of the most natural do-it-yourself punk bassists out there, Watt's powerful funk-driven bass lines have definitely stood out over the years.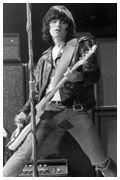 Dee Dee Ramone (Ramones) -

Dee Dee was not only an amazing bassist, but he was a fantastic songwriter as well. His rocking guitar riffs influenced some of the greats of the time and his ability to write amazing music was evident in his bass contributions while playing in the Ramones.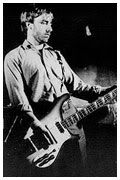 Peter Hook (Joy Division, New Order) -

One of the main reasons that Joy Division and New Order were so successful is simply the fact that everyone in the bands had a solid understanding for melody. Hook plays bass in both of these bands as if he was "talking" with a lead guitar.






Michelle Mae (The Frumpies, The Make-Up, Weird War, Scene Creamers)

-Michelle's insanely catchy grooves and tight locked-down rhythms makes her not only a fun player to listen to, but a fun musician to watch play as well. Her creativity and consistency completely compliment the creepy groups she works with.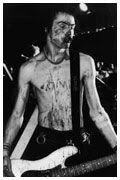 Sid Vicious (Sex Pistols)

–

As one of the founding fathers of shock punk, Vicious was often too busy with self-mutilation and drug addiction to focus on his instrument. Although he was often viewed as an average musician, his iconic contribution to the movement was and still is applaudable.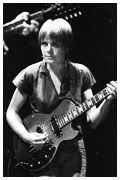 Tina Weymouth (Talking Heads / Tom Tom Club) –

Something about the way that Tina plays and moves did so much not only for the bands she worked with, but for me as a listener. You can't listen to Talking Heads or Tom Tom Club without admitting that Tina pulls some seriously killer grooves on her axe.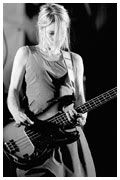 Kim Gordon (Sonic Youth,Ciccone Youth , Free Kitten) –

Kim Gordon is the Goddess of Experimental Noise Rock and Alternative. She can go from playing simple root notes to complicated organic soundscapes in just seconds. Her style and creativity add a successful sense of organic psychadelia to all of her musical projects.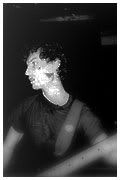 Dave "Blood" Schulthise (Dead Milkmen)

-

As a "Dead Milkman", Dave's playful and sarcastic Philly attitude was rarely taken seriously. His fun and colorful demeanor was a required ingredient for the Milkmen's cult success. Unfortunately the laughter came to an end in 2004 when Dave Blood took his own life shortly after losing his mother to cancer.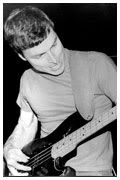 Tony Lombardo (Descendents)

-

The original Descendents singer/bassist who ended up focusing his deep understanding for exciting melodies on the bass guitar. Tony Lombardo's complex walking scales and adventurous rhythms supported the Descendents with great strength.